Can you imagine walking your thoughts of love through the cobbled streets of Cusco, embarking on the route to the millennial Machu Picchu or taking a post-wedding photo session with the wedding dress in the Plaza Mayor of Lima? With the delivery of the engagement ring, the organization of the wedding begins, but also the planning of the honeymoon! And Peru is one of those travel destinations that make a mark.
The honeymoon to Perú is a metaphor for the journey of life that you are about to begin, a tribute to love and the perfect pretext to rest from the preparations that have occupied you in recent months. Those who value having a honeymoon vacation packages in Perú will find unique attractions in this South American country for all types of travel. From the adventure and mysticism involved in entering its archaeological sites to the traditional and romantic atmosphere of its colonial towns.
Set aside the wedding fondant cake designs for just a moment and begin to define details of your wedding trip. To appreciate the proposal, we recommend six places for a honeymoon to Perú and their main attractions to get a little closer to the culture of Peru. Book a Packages to Perú to enjoy a perfect honeymoon.
Popular Honeymoon Destinations in Perú
Those who value having a honeymoon in the most popular destinations in Perú will find unique attractions in this South American country for all types of travel. From the adventure and mysticism involved in entering its archaeological sites to the traditional and romantic atmosphere of its colonial towns.
Set aside the wedding fondant cake designs for just a moment and begin to define details of your wedding trip. To appreciate the proposal, we recommend 6 popular honeymoon destinations in Perú and their main attractions to get a little closer to the culture of Perú.
1. Honeymoon in Lima – Perú
It was the capital of the Viceroyalty of Peru during Spanish rule, between the 16th and 19th centuries and is currently one of the most dynamic cities in South America. Located on the shores of the Pacific, Lima stands among the great gastronomic capitals of the world, which also has a wide range of museums and art galleries, archaeological heritage, bohemian neighborhoods and modern shopping centers. The archaeological site Huaca Pucllana, the Catacombs of the colonial churches and the emblematic Plaza de Armas, stand out among the places that you should visit. In general, its streets, large houses and patios preserve the charm of that time intact; to go through them is to go through five centuries of history.
And especially if it is a honeymoon, in Lima – Perú you will find hotel options for all tastes. It is only a matter of asking your agency to find the best alternative and can book in advance.
At the top of the list of essential places to visit during your honeymoon in Lima – Perú is the Basilica Catedral Metropolitana de Lima y Primada del Perú, whose first stone was laid, according to tradition, by Francisco Pizarro himself. Nor can you miss the Church and Convent of San Francisco, with beautiful cloisters and patios decorated with Sevillian tiles, and the Convent of Santo Domingo. The latter, in 1551 was the scene of the founding of the University of San Marcos, the first in South America. As not everything is religious architecture, you will be pleased to discover the Torre Tagle Palace, with an impressive Baroque stone façade and beautiful carved wooden balconies.
South of the center of the city of Lima is the district of Barranco, with its attractive buildings. A visit to the Bridge of Sighs is highly recommended, which, according to legend, will fulfill your wishes if you are able to cross it without breathing. Photography lovers will love the Mario Testino (Mate) Museum, located in a restored 19th century mansion, which exhibits the best of national and international contemporary art and photography.
Now, if you are looking for an ideal place to dedicate beautiful phrases of love, then do not miss the beautiful Parque del Amor, located in the Miraflores district, or the romantic Puente de los Suspiros, located in Barranco. The latter, especially known for its nightlife, as it houses several picturesque bars and restaurants.
Finally, there is the Miraflores District, from where you can admire the entire circuit of beaches, known as Costa Verde. They will be able to choose between walking them calmly, taking a promenade or paragliding over Miraflores.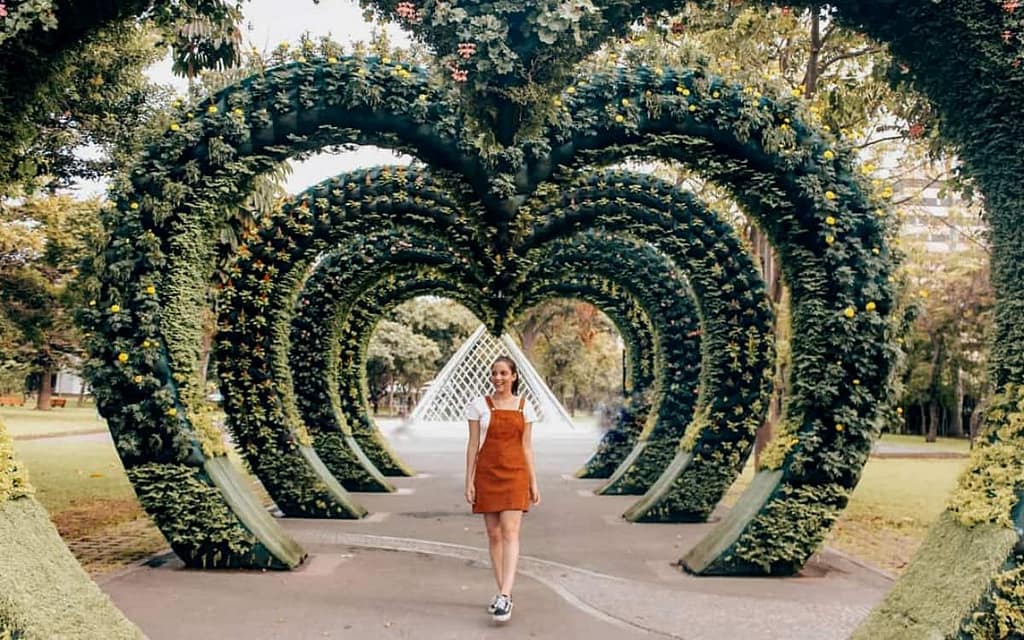 2. Honeymoon in Ica
If you like the beach and adventure, then you should definitely go through Ica, a city in the center-south of Peru, located in the narrow valley that makes up the river that bears the same name.
In addition to enjoying some wonderful sunsets and practicing sandboarding on the dunes, the main attractions of Ica include the Pisco Route, the Huacachina Oasis, the Nazca Lines Geoglyphs and the impressive Paracas National Reserve.
In general, you will find in this city the perfect mix between desert, beach, culture, archeology, wine routes and, above all, a lot of adventure. Likewise, the hotels offer first-class packages and services to live a magical honeymoon at affordable prices. Enjoy this beautiful oasis in the Peru Luxury Travel Package.
3. Honeymoon in Huarmey
To visit Huarmey they must travel about 300 kilometers north of Lima. There they will admire the Castle of Huarmey, a pyramid with burial chambers, located only 2 kilometers from the Pacific Ocean.
A few kilometers to the northwest, you will find the Tuquillo beach circuit, which you will love to release that dress for a beach party that is waiting for an occasion like this. If not, they can practice other activities such as diving, camping or fishing. The main one is the Tuquillo Beach, one of the best beaches in Peru, with calm and cold waters and accessible by road. They are followed by Maracaná, Antivito and Marín.
A little further north of Tuquillo is also Corralones, made up of seven sandy beaches, somewhat less accessible, as they are flanked by rocks. Among them are the beaches of Pocita, Colinita and Gramita.
4. Honeymoon in Arequipa
Arequipa is located in the province and department of Homónimos, a thousand kilometers south of Lima and is known as the Legal Capital of Peru. Its climate is quite pleasant (23 degrees and humidity of 10%) and it is surrounded by three volcanoes that are a delight to behold.
Arequipa is a city of churches, squares and royal architecture. It is firmly on the map as one of the best cities in Peru to visit as a couple. It is also part of the fabric of the country's constantly evolving culinary scene. Combined with day trips to the Colca Canyon and Capua Waterfall, spending time here is a great way to explore the country's culture and natural sites.
It is another place with great cultural and architectural wealth where you can sit and contemplate the typical houses of the place, built with ashlar, a white volcanic stone.
The main attractions of its Historic Center are the Cathedral of Arequipa, the Church of the Company, the Plaza de Armas and the Monastery of Santa Catalina, a Dominican convent built in the 16th century. If you are concerned about funerary art, you will be fascinated by the Andean Sanctuaries Museum, where you will find Juanita, the frozen mummy of a woman sacrificed in the Andes in the 16th century.
5. Honeymoon in Puno
Puno is located next to Lake Titicaca, in the south of the country, 300 kilometers east of Arequipa. Due to its traditional festivals with lively music and dance shows, it is considered the folkloric capital of Peru. Iconic sites include the Cathedral of Puno, an Andean baroque-style construction, and the 19th-century Yavarí steam gunboat, which is now a hostel.
And among the natural beauties, of course its main attraction is Lake Titicaca, Peru's national reserve. At 3,810 meters above sea level and with an area of ??more than 8,000 square kilometers, it is considered the highest navigating lake in the world. Its water is somewhat salty and it is home to natural and artificial islands, such as Esteves, famous for its archaeological remains. Certainly, a good place to be inspired by new short love thoughts and reaffirm your oath of union.
Embark to reach the famous floating islands of totora and learn about the customs and way of life of the native community of Los Uros, one of the oldest cultures on the continent. In addition, do not miss the opportunity to go kayaking on the lake, while you can also discover other ancestral islands such as Amantani and Taquile.
Puno, for its part, is considered the folkloric capital of Peru, due to its immense wealth in dances, music, customs and legends. Its maximum expression is the Fiesta de la Virgen de la Candelaria, which takes place in February.
Just as they gave a special stamp to their wedding rings by inscribing some Christian phrases of love, they can also personalize the honeymoon, creating the Perú Luxury Itinerary 10 Days yourself. From staying all the time in a city, to choosing five or six depending on the time available.
6. Honeymoon in Cusco
Nestled in the Peruvian Andes and located 1,500 kilometers from Lima, the capital of Peru (about 19 hours by land and one by plane), Cusco is a city full of archaeological attractions, but also of the Spanish colonial architecture that is still preserved.
In addition to getting to know the Historic Center, which will take time to explore, due to the many colonial attractions, it is highly recommended to visit Qorikancha, an Inca political and religious temple dedicated to the sun, located very close to the Plaza de Armas, and whose walls and floor they were covered with gold.
Then, it will be worth visiting the Sacred Valley of the Incas, parallel to the Vilcanota river and which opens between mountains between the towns of Písac and Ollantaytambo. The valley is made up of numerous rivers that descend through ravines and small valleys; It has numerous archaeological monuments and indigenous peoples, such as the Inca ceremonial fortress Sacsayhuamán. Its megalithic walls make this one of the most outstanding architectural works of the Incas. From there you can enjoy a unique panoramic view of the surroundings, which includes the city of Cusco.
Staying in Cusco will also give you the opportunity to get to know Písac, a town famous not only for its access to the aforementioned sacred valley, but also for its astronomical observatory and on whose peaks are the remains of a pre-Columbian cemetery. Probably the largest ever found in America. There is also the labyrinth of Qenko, with its zigzag channels and its dumb stone in the center, and Tampumachay, known for its canals and waterfalls, which show how advanced Inca architecture and hydraulic engineering were.
In that same area is the ancestral Chinchero, a town that preserves the Inca essence and where the indigenous past coexists with the colonial history of Peru. The ruins of Moray, an archaeological zone that was a center for experimentation of crops used by the Incas for the acclimatization of products brought from other areas, and the archaeological zone of Ollantaytambo also deserve several stars. The peculiarity of this is that it was built on two mountains in a strategic place that dominates the entire valley. Due to its privileged position, it was a military, religious, administrative and agricultural complex and it is the only Inca city that is preserved almost intact. Even today their houses serve as dwellings where their descendants live.
And to finish your tour of the beautiful region of Cusco, the jewel in the crown of Peru: Machu Picchu. From Cusco the Inca Trail leaves to this sanctuary, also known as the "Red Caminera del Tahuantinsuyo" to Machu Picchu, which is composed of three superimposed trails to choose from. Remember to wear comfortable clothes and shoes; a hairstyle with braids will always be a good ally.
Honeymoon in Machu Picchu – Perú
The ancient citadel of the Incas needs an introduction, and is a must-see on any Peru honeymoon itinerary! For good reason Machu Picchu is one of the 7 wonders of the world and at the top of pending travel lists. What better place for a magical photo of the newlywed couple?
If you are an adventurous couple, you can also access the citadel through the Inca Trail, a set of trails with incredible landscapes and an excellent trekking route, surrounded by imposing buildings. The journey includes 4 days and 3 nights. If not, the Cusco to Machu Picchu Tour Package will let you enjoy this destination. The best experience for a honeymoon in Machu Picchu – Perú.
Why choose a honeymoon in Machu Picchu – Perú?
Machu Picchu is the first tourist destination in South America and Peru. Cusco presents a mystical and romantic atmosphere for a honeymoon trip. These are the main reasons to visit this incredible place as a couple:
The Wonder of the World is the perfect place for couples who have tired of the classic trips to beaches and cruises.
There are luxury hotels with all the comforts for the newlyweds. From dinner buffets with champagne to thermal baths under the starry night.
The sunrises and sunsets in the Inca Citadel are incomparable experiences. It is the best time to be in silence and as a couple.
Many tourists assure that Machu Picchu is full of energy. It is the perfect place to recharge yourself with good vibes before beginning the long journey of marriage.
Cusco is one of the few places in the world where it is possible to celebrate an Andean marriage. This symbolic ceremony is closely related to the mountains, mother earth (Pachamama) and ancient Inca wisdom.
For adventurous couples there are many options such as the ascent to Huayna Picchu and the 4-day trekking route known as the Inca Trail.
The Sacred Valley of the Incas is a region full of luxury hotels and tourist services. You can visit the salt mines of Maras, the sites.
Perú Luxury Honeymoon Destinations
A dream honeymoon can also come true by exploring other tourist attractions in Peru, which is why we recommend to visit this Perú luxury honeymoon destinations, on the occasion of your union for life with the person you love.
If there is something that seduces the newly married couple, it is the Honeymoon: the Luxury Tour Perú will be remembered for the rest of their lives.
In this sense, there are many surprising and romantic Perú luxury honeymoon destinations to satisfy all preferences for an unforgettable Honeymoon in Peru.
1. San Vicente de Azpitia: the balcony of heaven
They will be in awe of the great gifts that nature has to share through its sky, its plants, rivers and roads. They will relax in one of their hotels or cabins, they will cross the area by bicycle, they will walk through its streets holding hands as if remembering their departure from the church with the wedding rings as confirmation of their union. They will ride a few kilometers on ATVs or on horseback; and if they dare, they will practice canopy. And why not? They will also taste the local wines and piscos.
2. Huancaya: the green of its waters
The Carhuayno waterfall with its unique natural steps and crystal clear lagoons are some of the main tourist attractions that Huancaya has, in the Nor Yauyos – Cochas Landscape Reserve. With an approximate distance of 7 hours from Lima by the Panamericana Sur, or a little more than 5 hours of travel by the Central Highway. If you decide to go by bus, an alternative could be to get to the imperial district in Cañete and board another vehicle to Huancaya. Or if you prefer to join a weekend tour, you also have that possibility. To rest they will not only have as an option the lodgings, but also the camping area. They will relax on horseback riding, walking through the Forest of Love or practicing sports such as canopy.
3. Pachacamac: hidden treasure
After traveling by car for more than 1 hour from Lima, you will arrive at the Pachacamac Archaeological Center to discover its temples and its site museum. They will choose a hotel according to their preferences to enjoy their honeymoon, they will admire the stone of love that shows the figures of two people united in an embrace, they will drink from the waters of the spring of youth and they will choose one of the circuits of the Lomas de Lúcumo to admire its beauty and see the animals that live there.
4. Antioch: the beauty of colors
In the Guinness records it appears as the largest altarpiece in the world, because for some years its colors, drawings, constructions and landscapes have attracted the attention of its various visitors. Antioquia is located in Huarochirí, at a distance of 3 hours and 30 minutes by road from Lima. They will arrive there in both private and public service vehicles. If they choose the latter, they will have to board the cousters to Cieneguilla at the transport agencies at the intersections of Rosa Toro and Nicolás Arriola (San Luis – Lima), and then continue to Antioquia. Among other attractions, you will find canopying and trekking, tours of quince plantations, bathing in the waters of the Lurín river and the taste of delicious artisan ice cream.
5. Churín: medicinal waters
The thermal baths of Churín await you just 4 hours from Lima on the Panamericana Norte, to make you relax, and forget the stress and nerves you felt when you entered the religious site with your lace wedding dress, presided over by your bridesmaids in their party dress models. After the well-deserved day of relaxation in the bride and groom's pool or in the other bathrooms, take the opportunity to rest and if you feel like going to dance at a disco.
6. Paracas: a home for marine fauna
Depending on the accommodation you choose, you could swim in a pool or artificial lagoon. Once installed, it would be better for them to purchase promotional rate tickets to visit the Paracas National Reserve and tour its beach circuit. With this same ticket, you will enter the Ballestas Islands to navigate and meet the Humboldt penguins, sea lions and various species of birds. Before boarding the boat to the Ballestas Islands, they will have to pay a tax of 5 soles each for the entrance fee and use of the El Chaco dock.
7. Huaraz: road to the mountain range
From its beautiful main square you will find tours that might interest you to go to the Chavín de Huantar Archaeological Complex and the Llanganuco lagoon with emerald waters. In the event that they are encouraged by this last destination, we tell them that the entrance of adults costs around S /. 10 soles. Huaraz belongs to the department of Ancash and is located at a distance of approximately 8 hours from Lima by road. It has a good hotel offer for its visitors. Its beautiful sky, its inhabitants and its impressive mountain ranges await you.
8. Cajamarca: the Inca's rest
The Ventanillas de Otuzco and the Baños del Inca are located a few minutes from the center of Cajamarca, so you can move without any setback in public service combis if you wish. In the event that you also want to go to Cumbemayo, it is better that you hire a tour to guide you during the tour of this stone forest with the shapes of friars. From Lima to Cajamarca by bus or car, the calculated time is 15 hours; While, if they are inclined to travel by plane, the journey will only last 1 hour.
9. Ayacucho: the city of churches
Land of artisans that keeps the pottery tradition alive, and dozens of churches and mansions of marked colonial architecture trace the contour of this region of historical moments and places, such as the Pampa de Ayacucho, where continental independence was sealed.
This town, ideal for couples looking for a low cost honeymoon, will offer a wide range of hotels, transport, cultural landscapes and gastronomy for all budgets. That is, if they were left with a negative balance after splitting their wedding cake, here they will find very convenient prices.
10. Huancayo: the incontestable city
This city is also known for the wedding guests are very generous with the gifts they give to happy couples. Almost 7 hours from Lima by road and a few minutes from the city center, you will go up to the Cerrito de la Libertad, a viewpoint to observe Huancayo in all its splendor. There they will spend a large part of the day swimming in the pool, talking and enjoying the local cuisine.
11. Huarmey: the tranquility of the sea
To the north of Peru and only 4 hours from Lima they will reach spaces surrounded by marine landscapes, which will motivate them even more to live their honeymoon trip to the fullest, feeling the sea breeze on their skin, cooling off on the beaches and tasting the delicacies marinas in the area. From the center of the city of Huarmey they have the possibility of taking combis that leave them at the Tuquillo beach, and from there they have the option of choosing their favorite beach. Would you dare to camp in any of them?
12. Huacho: nature in action
The small north presents the city of Huacho just 2 hours and 30 minutes away from Lima. As soon as you arrive and settle in your hotel, put on your sunscreen, bathing suits, comfortable clothes and get on a public or collective service vehicle to reach the Enchanted Lagoon, located just 11 minutes from the center of Huacho. In this place they will practice adventure sports such as kayaking and flyboard (a board attached to tubes that allow you to easily get in and out of the water, as well as doing pirouettes).
13. Oxapampa: beauty of the central jungle
Although 10 hours by road from Lima will seem like a long time to this province of Pasco, it will be worth the effort when you admire its great ecological diversity, its food and the warmth of its people. To go to Tunqui Cueva you will have to choose between a bus, a motorcycle taxi or a tour. This cave is home to nocturnal animals such as owls and bats. You can also reach the Río Tigre waterfall on your own to walk, admire nature and cool off in its waters.
14. Lunahuaná: adventure to the fullest
This privileged town for its eternal sun is located south of Lima, specifically about 3 hours away. If you are lovers of extreme sports, being there will suit you like an engagement ring on your finger, because you will practice boating, cycling, kayaking, climbing and taking bicycles or ATVs. This does not mean that couples looking for quiet moments will not take advantage of this place, on the contrary: they will bathe in the Cañete river, walk through its streets, savor the dishes and relax in their hotel looking at the landscape, and in several cases the run from the river. And since they are passing through, why not stop in Cañete to buy some typical sweets of the place? Or after getting to know Lunahuaná well, take a jump to Pacarán or Zúñiga? Both are only 30 minutes apart.
15. Chachapoyas
An excellent destination for those couples who would like to spend their honeymoon to discover a space full of natural attractions, which distinguish a valuable culture, framed in beautiful landscapes. A true paradise where tourist places such as the Plaza de Armas, the Pozo de Yanayacu and the Laguna de los Conderes cannot be exempted from visiting. In turn, the time can be used to enjoy the Sarcophagi of Karajía, the Cavern of Quiocta, the Gocta waterfall and the Kuelap Fortress.
16. Iquitos
It is perfect to go much deeper into the Peruvian jungle and interact a little more in depth with the country's Amazon, which is possible in this place, through walks, canoe excursions during the day or at night and exploring the different species of exotic animals that exist there, such as gray and pink dolphins, anacondas, bears, turtles, as well as a variety of species of birds and monkeys. In turn, it is possible to enjoy fishing or canoeing. Another option is to visit some of the native groups that inhabit the city.
5 perfect ideas to celebrate your honeymoon in Perú
Every couple dream of having an unforgettable wedding with all those who share their love, but as important as the wedding is the honeymoon, that private trip that they both dreamed of together. Today we are going to give you some ideas so that you can plan where to celebrate your honeymoon in Perú.
If you like adventure, here is our 5 ideas to celebrate your honeymoon in Perú:
Visit Machu Picchu on a luxury train
Knowing this thousand-year-old wonder is an experience that must be lived at least once and if it is traveling on a luxury train like Hiram Binghan, you will truly fall in love with the combination of adventure, romance and comfort. Inside the cars you will find live music, gourmet food, a great selection of drinks, cars with panoramic roofs and many more surprises. The train operates every day of the year, except the last Sunday of each month and can be approached at 3 stations: Poroy, Ollantaytambo and Machu Picchu.
Do you want to live a more tropical adventure, write down this Luxury Machu Picchu Tours for your honeymoon plans.
Cruise on the Amazon River
The jungle is a magical place and discovering its beauty on a cruise is indescribable, like those of Amazon River Expreditions that have great amenities for this type of trip that mix adventure and romance. The best destination you can find in the Amazon is the Manu National Reserve in Iquitos, a destination full of peace and natural life. Here you can enjoy a resort in the middle of the jungle that will keep you away so that you can enjoy that special moment in full privacy and harmony.
Third tip, a classic one that never ceases to amaze due to its climate and versatility.
A romantic oasis on the best beaches in the north
Here you will be assured a good dose of peace and tranquility under the sun and facing the sea, however that is not all you will have on your honeymoon because there are many other experiences that you can live. If your wave is much more oriented to contact with nature, inner peace and healthy life, Hotel Boutique Kichic is the right one, a place that appeals to the senses through details, warmth and incredible spaces. If you are looking for something more contemporary and conceptual, you have the DGO Oasis Hotel recognized for its famous Sensorial Guide and its gourmet restaurant, as well as for having an Asian-style couple's spa.
Fourth tip, although few believe it, it is a place that they will love for the rest of their lives.
Sunrise in front of the gigantic Gocta waterfalls
If you are looking for a honeymoon that disconnects you from the world, this is the place. Here you will wake up in front of the third highest waterfall in the world and a wonderful orchid forest. But not only that, here you can also take long walks in the area and get to know different ecosystems and typical places such as the Kuelap ruins. Here you can undoubtedly disconnect from the world for a few days and enjoy every minute for the two of you. The Gocta Andes Lodge hotel is one of our recommendations due to its unbeatable location and the outdoor activities it offers to its guests.
And finally, we are going to go to Huaraz, a place near Lima where you will connect with nature and with yourselves.
Tour the most beautiful mountains of our mountain range
Imagine walking hand in hand through the most imposing mountains of our mountain range or through the most beautiful lagoons you have seen. In Huaraz they will not only celebrate their honeymoon, they will also live a unique natural experience. One of the best alternatives for a wedding couple is the Cuesta Serena Boutique Hotel, an intimate space that has developed a very interesting conceptual proposal since it has large gardens, healthy gastronomy, yoga, meditation and massage rooms, routes and walks along the trails . But that's not all because they even have alliances with 2 Lodges in the mountains so that your honeymoon has that quota of adventure it deserves: The Llanganuco Mountain Lodge and the Churup Mountain Lodge.
There are many alternatives to put together your Honeymoon plans in Peru but at Mogador we want to help you not only find the perfect engagement ring, but also to live this important moment as you deserve it.
Tips for traveling to Perú
Wouldn't it be excellent to go on a honeymoon to Peru? It is a relatively small country, but with a rugged terrain that complicates and slows land transport. Therefore, to be well worth it, it is recommended for those who wish to have a minimum stay of 10 or 12 days, although it can always be adapted according to their times, needs and budgets.
As you may have realized, in Peru you will find so many things to do and places to visit that your stay could be a month or more. If they will only have one or two weeks, they will have to select very well the places they will go, the means of transport they will use and an agile way to visit them. It is a matter of agreeing.
Another advantage is that a tourist visa is not required, as your valid passport is sufficient.
Prepare your trip well
To get to Peru and more precisely to Lima, it takes at least 12 hours of non-stop flight from Paris. From other cities in France, have at least one stopover. Remember that you will have to deal with a time difference: 6 hours in winter, 7 hours in summer.
Being Peru a vast territory with very diverse landscapes and climates, the best time to get there depends on your objectives. Nature enthusiasts come to Peru in July and August to enjoy the Amazon rainforest. A trek in the Andes? It will be from May to October. For Lima and the coast, prefer the period from December to March. The Altiplano and the archaeological sites? Its season will be from May to September.
You will need a passport valid for at least 6 months from your arrival date in Lima. Universal vaccines are recommended, as well as yellow fever in the Amazon, rabies in rural areas, typhoid fever, and hepatitis A for long stays.
Costs of traveling to Perú
The cost of a honeymoon to Perú, like any other place, depends a lot on the places you visit, the type of accommodation you hire, the time of year you travel and how far in advance you book. However, plane tickets in general range between 8,000 and 14,000 pesos round trip per person. Lima is one of the most suitable destinations to land and, from there, later move to the cities and towns that you want to know. Regarding accommodation, the range is between 1,500 pesos per night for a three-star hotel and 7,500 pesos per night in one of five.
Do not forget that the official currency is the sun, so we recommend you check the exchange rate when traveling. Usually, it is equivalent to 5 or 6 Mexican pesos.